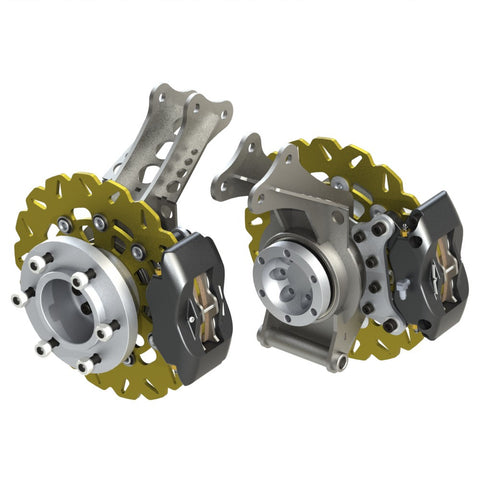 CV2 Rear suspension upright brake kit
Description:
CV2 rear suspension uprights with outboard Wilwood 4-piston calipers and 312mm brake rotors, to suit 15" rims.
Kit contents:
(2 of each of the following)
- Welded uprights
- Billet aluminium wheel hubs with studs & wheel nuts
- Billet aluminium CV hubs
- Floating brake rotors (312mm)
- Wheel bearings
- Wilwood 4-piston brake calipers
- Brake caliper mount plates
- Hub bolts
- Rotor bolts
- Caliper mount bolts
Note: assembled uprights without outboard brakes are available here. An inboard XVS brake must be used if upright brakes are not used.
Note also these brakes will not fit inside 12" diameter rims. Rims with diameter 15" or larger must be used to fit these outboard brakes. Uprights with brakes to fit inside 12" rims are available here.
The calipers used on these uprights require a 1" bore master cylinder (e.g. our 1" Pedal Box)
Part no. CV2-23
Other related products