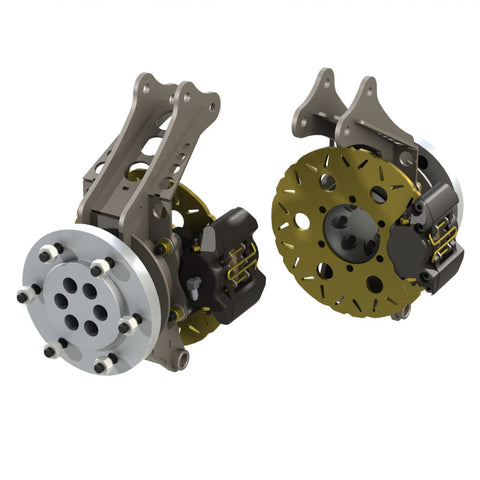 CV2 Uprights with Brakes to Suit 12" Rims
Description:
CV2 rear suspension upright assemblies with Wilwood 2-piston calipers and 227mm brake rotors, to suit 12" rims. Inner calipers and rotors allow rims as small as 12" diameter to be used.
Kit contents:
(2 of each of the following)
- Welded uprights
- Billet aluminium wheel hubs with studs & wheel nuts
- Billet aluminium CV hubs
- Brake rotors (227mm)
- Wheel bearings
- Wilwood 2-piston brake calipers
- Brake caliper mount plates
- Hub bolts
- Caliper mount bolts
Note: upright assemblies without brakes are available here. An inboard XVS brake must be used if upright brakes are not used. CV2 uprights with Wilwood 4-piston calipers and 312mm rotors are available here however they must be fitted with rims 15" diameter or larger.
Part no. CV2-24
Other related products