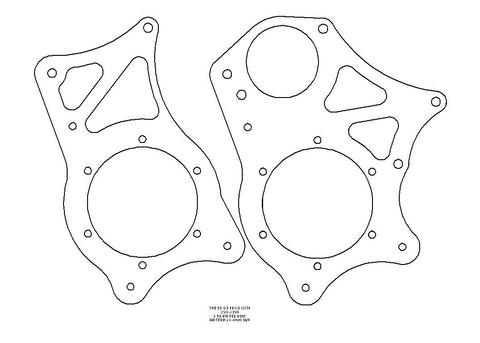 CV2 Adjuster Plates (optional inboard brake) Laser Files
Description:
Laser cutting files for the two cartridge adjuster plates for the CV2 rear suspension. These plates also mount the reverse motor and an inboard XVS brake caliper.
CV2-5XVS (both adjuster plates)
CV2-10 (aluminium reverse motor mount)
If you do not require the inboard brake caliper mount (i.e. outboard upright brakes are being used) then use the CV2-5 adjuster plates.
This design is similar to the plans, but refined with a few holes to make the plates lighter.
Plates will need some of the holes drilled out to clean & tapping some of the holes to the specifications in the plans.
Laser cutting files: the enclosed DXF file(s) should be provided directly to your local laser cutter. In order to view DXF files on your computer we recommend the free viewer DWGSee.
Other related products