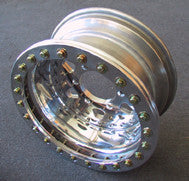 15x7 Beadlock racing rims
Description:
15x7" Beadlock rear rims, 139.7mm PCD six stud pattern
Specially designed to suit the Barracuda R for offroad racing & X2 & X2R buggies.
To suit 6 stud hubs. 108mm centre hole. 12mm stud holes with 60 degree taper.
Centre plate 19mm thick. Rim construction is three piece plus beadlock plate. Outer rim halves spun from 5mm Aluminium.
Each (1 rim)
5"+2" offset
NOTE: we used to run a 15x5" rim on the front of the X2 but have since moved to a common 15x7" rim for all four corners, offset more inward to maintain good steering geometry. Which means all rims & tyres are all identical.
Part no. 15x7BL
Other related products