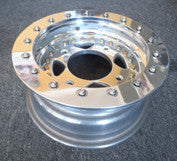 12x5 Beadlock rim
Description:
12x5" front, 156mm PCD four stud Beadlock rim, Specially designed to suit the Barracuda tyre size, stud pattern & suspension/steering geometry.Spun 3 piece construction.
Bolted in centre plate 12mm thick.
Beadlock plates are internally serrated for extra tyre grip.
Inner lip of the rim is rolled for extra rim strength.
Beadlock clamp plates are 7mm thick to resist distortion.
3"+2" offset
Also fits Piranha III.
Part no. 12x5BL
Other related products