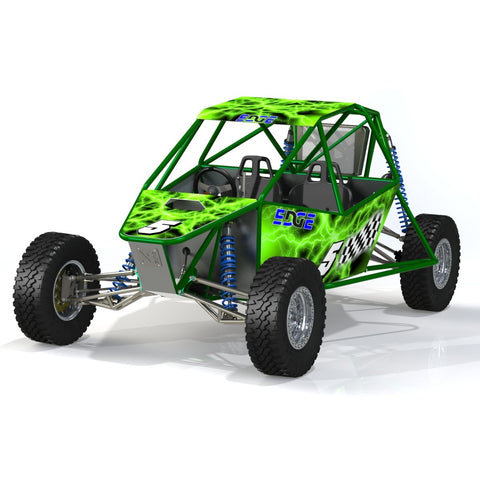 The X2R Plans (Digital Download)
Description:
Full construction plans for the X2R buggy, including the CV2 rear suspension.
Best of breed, twin seat race buggy with CAMS / AASA cage.
From more than 25 years of mini buggy design
Double A arm front suspension
Super long suspension travel  - 23"
Able to handle larger engines with BIG horsepower
These plans are in a digital (PDF) file available for immediate download.
Meet The X2 - Edge Products' First Dual Seat Buggy
Race bred evolution...
The X2, based on the race bred Edge Barracuda has evolved into a two seat buggy.
25 Years & Counting...
More than 25 years of Mini buggy design, development & thousands of buggies manufactured has resulted in the X2, a chunky & aggressive long travel buggy that you can build yourself and enjoy with your friends and family.
The best gets better...
The X2 has all the great design features of the Barracuda suspension & driveline but with a larger tougher chassis designed for two people. It retains the Barracuda's upraked nose, the streamlined rollcage & the Edge quickturn rack & pinion steering. The Double A arm front suspension design has been refined, but still features rod end camber & caster adjustment and super long travel at 500mm (20").
More room for people and power...
More internal room for the driver & passenger, as well as a longer engine bay to fit larger engines has resulted in a slightly longer buggy which handles even better at high speeds. The X2 can be constructed as either a Left-Hand Drive or Right-Hand Drive vehicle with ease - the steering and pedal mounts are simply mirrored to the opposite side.
Easy & Comprehensive Plans
The X2 plans is a comprehensive 230 pages with detailed drawings, produced from our latest CAD models for ultimate accuracy and clarity - including lots of 3D images. They can be purchased in a printed book or in digital form ready for immediate download (and at a discounted price).
These detail every chassis & suspension part that needs to be made along with parts lists, nuts & bolts lists & material lists. Laid out in 3D views with 2D dimensioned detailed drawings the X2 plans detail the complete chassis, front & rear suspension, brakes, pedals, all brackets, fuel tank, floor pan, roof plate, nose plate, bonnet, bulkhead plate, engine bash plate, complete steering including rack mount & steering column & gearshift setup. In fact, every single part that needs to be made.
The X2 plans explain the chassis construction in a "step by step" format starting with the base frame & building the chassis from the ground up to make construction easier for the home builder. Suspension arms & components are broken down into their individual parts for ease of manufacture.
Specifications
Chassis
RHS section floor, full round tube chassis & tubular roll cage structure
Steering
Quick turn racing rack & pinion with electric power steering.
Motor
Road bike engines, water cooled (chain drive type) from 1000cc to 1400cc
Transmission
Motorcycle 6 speed sequential Gearbox
Front Suspension
Double "A" Arm independent, Rod end adjustable camber & castor with coil-over shocks, 500mm, (20") wheel travel
Rear Suspension
Double "A" Arm independent, 930 CV axles, Rod end adjustable camber & toe settings with coil-over shocks, 400mm, (16") wheel travel
Driveline
530 chain driving centre cartridge & Porsche 930 CV's
Brakes Front
312mm disc rotor on each wheel with four piston hydraulic caliper
Brakes Rear
312mm disc rotor on each wheel with four piston hydraulic caliper
Front Wheels
30x7x15" tyres on 15x5" rims
Rear Wheels
30x9.5 x15 Tyres on 15x7" rims
Overall Length
3390mm (133") (outside of tyre to outside of tyre)
Overall Width
1933mm (76") (outside of tyre to outside of tyre)
Overall Height
1616mm (63") (ground to top of rollbar)
Track (rear)
1646mm (64") (hub face to hub face)
Track (front)
1756mm (69") (hub face to hub face)
Wheelbase
2620mm (103") (centre of axle to centre of axle)
Approx. Weight
520-570kg, (1250 lb)
Ground Clearance
Minimum 300mm (12")
618mm clearance at nose (24")
Top Speed
120-190 kph, (75 – 120mph) depending on engine type & gearing.
Acceleration
0-100 kph, (60mph) in 5.5 seconds
Watch The X2 buggy in action!
An X2 hooking up in New Zealand, powered by a Kawasaki ZX-12.
Not afraid to get some air!
What does it cost to build?
Buying the raw materials, fabricating and welding the X2 parts yourself to the plans will cost approximately $9,500 to $17,000 Australian dollars minus motor depending on how much of the componentry you produce yourself.
Suitable Engine Types
Any large capacity engine can be used as long as it is of a chain drive design, (chain drive from engine to rear wheel).


Engines from 1000cc right up to the latest Kawasaki ZX14R can be used depending on the level of performance required.
Vee twin engines such as the Suzuki TL1000, Honda VTR1000 and Aprilia RSV1000 are very suited to sand dune type driving as they offer lots of low rpm torque.
Big capacity muscle bikes such as the Suzuki GSX1300 Hayabusa & Kawasaki's ZX14R are great engines for raw horsepower that give good torque, power, speed & acceleration.
Save
Save
Save
Save
Two Seats - All Race
After 12 years of success with the Barracuda and X2 in and out of racing, it's time to step our 2-seater up to a full racing specification. The X2R brings the best of the Barracuda design and X2 layout to the top-level racing stage with a fully race-compliant tubular chassis.

The X2R chassis has been designed to comply with CAMS Prolite and Super 1650 regulations (AASA Class 1 & Class 10). With a 200hp+ motorcycle engine and a 630kg race weight the X2R has a power-to-weight ratio that most car-engined buggies can only dream of.
But the X2R does more than just tick a scrutineering box. There's more driver room to accommodate the extra cockpit fitout in a racing vehicle, including a Wilwood brake pedal box (and electric power steering as standard). Front suspension travel is increased and larger 2.5" coilover shock absorbers can be mounted.
All four wheels are fitted with 4-piston Wilwood calipers grabbing 312mm floating brake rotors to give outstanding braking performance over any terrain. A bigger engine bay gives builders the flexibility needed for upgraded racing motors and the accessories that come with them. That extra horsepower is easily handled by the CV2 rear suspension drivetrain: proven as a bomb-proof drive unit in harsh racing conditions and including track rods to ride out the biggest impacts racing can throw at it. The upgraded full-width 65 liter (17 gallon) fuel tank lets the X2R cover long-course off road races and features a racing filler cap to allow quick refuelling. Finally, 30" 4WD-spec tyres ensure maximum traction over the roughest terrain and give the X2R the long legs needed to compete over high speed cross-country racing tracks.
Over the years Edge Products have produced a number of race-compliant vehicles, and it's about time Edge customers were able to take advantage of our racing vehicle experience with a weapon that can compete at the highest level of off road motorsport.
Specifications
Chassis
CDS tubular space frame roll cage structure with tubular floor frame
Steering
Quick-turn racing rack and pinion with electric power assist
Motor
Road motorcycle engines, water cooled chain drive type, 1000cc - 1400cc
Transmission
Motorcycle gearbox and chain drive to 930 CV axles
Front Suspension
Double A-arm independent, rod end adjustable camber & caster with coil-over shocks, 590mm travel
Rear Suspension
Double "A" Arm independent, rod end adjustable camber & toe with coil-over shocks, 400mm travel
Brakes Front
312mm disc on each wheel with Wilwood 4-piston calipers
Brakes Rear
312mm disc on each wheel with Wilwood 4-piston calipers
Front Wheels
30x9.5x15" tyres on 15x7" rims
Rear Wheels
30x9.5x15" tyres on 15x7" rims
Overall Length
3670mm (outside of tyre to outside of tyre)
Overall Width
1810mm (outside of tyre to outside of tyre)
Overall Height
1720mm (ground to top of rollbar)
Track (front)
1610mm (hub face to hub face)
Track (rear)
1600mm (hub face to hub face)
Wheelbase
2900mm
Approx Weight
630kg (1400lb) depending on engine
Ground Clearance
Minimum 350mm, 680mm at nose
Top Speed
120-190 kph depending on engine & gearing
Acceleration
0-100 kph in 4.5 seconds
Other related products