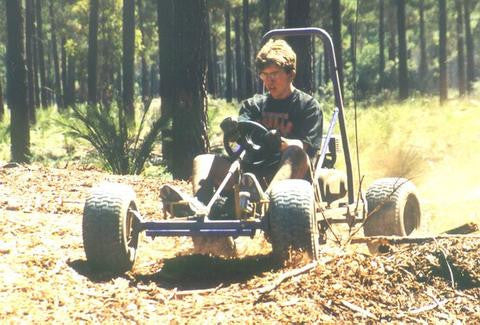 The Fun Kart III Plans (Digital Download)
Description:
Full construction plans for the Fun kart III.
Full ATV Go-kart
Go-kart Bellcrank type Steering
Simple to build with solid performance
Power via 5-6hp Industrial Motor
These plans are in a digital (PDF) file available for immediate download.
The Fun Kart III
A full blown ATV Go-Kart...
The Fun Kart III is a full ATV go-kart with heavy duty ATV tyres, roll bar & disc brake. Teach the kids to drive long before they get their license and have to face the dangers of the main road. An adventurous Go-Kart for the whole family to enjoy.
Simple to make...
The toughest off road go-kart in the world! All the parts are very simple to make and the chassis is fabricated from commonly available steel sections, as are the steering components.
Fun for the whole family...
Power comes from a 5-6hp industrial motor with a torque converter auto drive. The Fun Kart III features tough 18" turf tyres and ATV rims, heavy duty car bearings, hydraulic disc brake, and adjustable seat and steering so the whole family can enjoy off road driving.
Easy & Comprehensive Plans
The Fun Kart III plan set consists of over 55 pages of detailed drawings, produced from our latest CAD models for ultimate accuracy and clarity. They can be purchased in a printed book or in digital form ready for immediate download (and at a discounted price). The plans feature parts lists, nuts & bolts lists, material lists & every part that needs to be made including chassis, axles, steering, bushes, pedals, seat frame, engine set up and rollbar. Designed with the home builder in mind & easy to read the Fun Kart III plans break every component down into it's individual pieces along with steel cutting lists on each drawing.
The Fun Kart III plans have been updated with new clearer drawings, more detail, hints & tips and better compatibility with other Edge designs.
Specifications
Chassis
Box section Chassis with simple tubular rollover hoop
Steering
Go-kart bellcrank type, adjustable height
Motor
5-6hp Industrial Motor, horizontal 3/4" Crankshaft
Transmission
Auto Belt Drive Torque Converter, then Chain Drive to solid rear axle
Suspension
No suspension, relies on flexible 18" turf tyres for movement
Brakes
Single rear Hydraulic Disc and Caliper, either motorcycle or Edge Products brake system
Wheels
18" Turf Tyres and ATV Rims
Overall Length
1900mm
Overall Width
1230mm
Overall Height
1270mm
Track (rear)
1000mm
Track (front)
980mm
Wheelbase
1360mm
Approx. Weight
105kg
Ground Clearance
180mm
Top Speed
55kph
Acceleration
0-50kph in 4 seconds
What does it cost to build?
Buying the raw materials, fabricating and welding the Fun Kart III parts yourself to the plans will cost approximately $800 to $1,100 Australian dollars minus motor depending on how much of the componentry you produce yourself..
Suitable Engine Types
The Fun Kart III is best suited to 5-6hp industrial motors.


Industrial motors offer fantastic reliability, coupled with the convenience of an automatic transmission (torque converter).


The Edge Products is able to supply a range of Briggs & Stratton and Rato motors and related parts.
Save
Save
Other related products