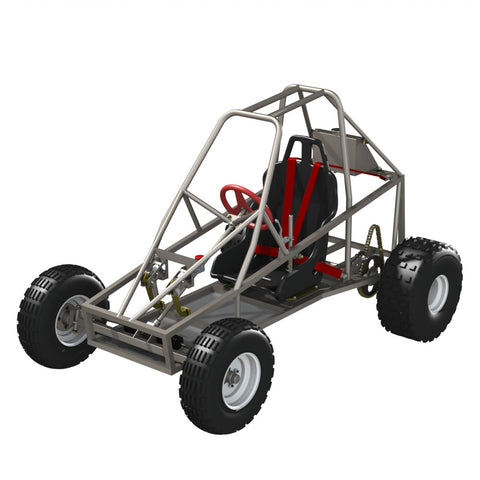 Taipan II Kitset (to Suit Bike Motor)
Description:
Complete Taipan II kitset to suit a motorcycle motor. Kit does not include a motor or motor mounts. Includes fully welded chassis. All brakes, steering, pedals, seat, seat slides, harness, floor pan, wheels & tyres. All parts welded including chassis. Just requires motor, motor installation, painting and assembly.
Includes the following parts:
Complete welded chassis frame
Aluminium floor pan
Front stub axles, wheel hubs and nuts & bolts.
Stainless braided brake hose & fittings.
Complete pedal box with 5/8" master cylinder.
Quick-turn billet rack & pinion, tie rods, steering column, column bush, steering wheel, nuts & bolts.
High back fibreglass rally seat & 4 point driver harness.
Seat slides with nuts & bolts.
Throttle pedal housing with pedal, throttle cable & adjuster.
Rear axle with sprocket, disc rotor, twin piston caliper, bearings and bearing mounts.
Chain tensioner with idler sprocket
Drive chain
Two 8x7" steel front rims
Two 8x8.5" steel rear rims
Two 20x7x8" front tyres
Two 22x11x8" rear tyres
 NOTE: THIS ITEM IS SPECIAL ORDER ONLY
CONTACT US FOR MORE INFORMATION.
Part no. TN-KIT2