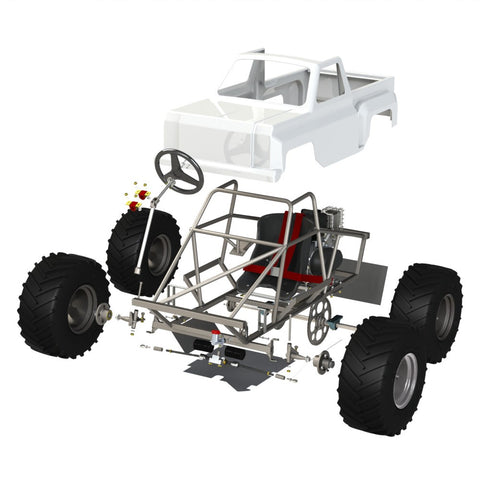 Mini Monster Truck kitset
Description:
Mini Monster Truck kitset.
Fully welded rolling kitset, includes all parts ready to paint & assemble.
Fully welded chassis

6.5hp Briggs & Stratton engine

TAV2 transmission

Brakes

Axles

Bearings

Sprockets

Chain

Rack & pinion steering

Steering column

Pedals

Seat

4 point harness

26" Kenda Bearclaw tyres & 12" steel rims

Fibreglass body

Aluminium floorpan
Please note the fiberglass body shell is supplied with undersize wheel wells to allow customers to trim the body to suit their preferred look and style.
Bodies require sanding & preparation prior to painting.
Chassis & other components supplied raw steel & require painting.

NOTE: THIS ITEM IS SPECIAL ORDER ONLY
CONTACT US FOR MORE INFORMATION.

Part no. MT-20